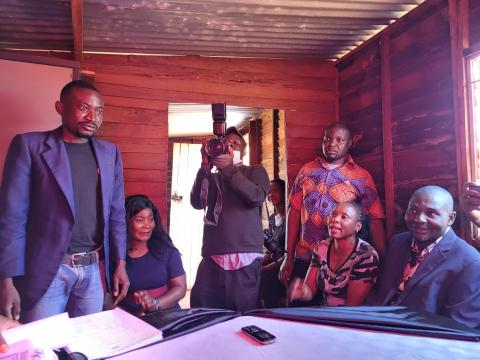 Meeting the Committee at the Western Suburbs Housing Union
On August 8, 2022, ZIC visited the Western Suburbs Housing Union at Kuwadzana, Harare, where ZIC has assisted people to obtain residential housing stands in a Peace Village project. The committee welcome included introductions, a briefing at the modest community school and a trip through the suburb to the sites allocated for the Peace Village.
Participants had backgrounds in ZANU-PF, MDC and other political organisations, and they emphasised that this project was open to all, its focus was on peace in the community and it is inclusive of gender, children, the homeless, the disabled, the poor and needy. Their goal is to provide shelter for all Africans by 2063, a goal of the African Union. "It is not easy to put people together in our toxic political environment, but the idea of partnership enabled us to make progress," said Ms Abigale Mupambi. "We can really celebrate the resilience of our community."
The Peace Village will have 3,000 housing units, and 17 cooperatives. They intend to create a legacy for emulation across Zimbabwe and Africa, to build cities "just like Sydney", in peace.
The Union had revived a junior school in May 2019 which has enrolled students up to Form 4. It has four junior school and three senior school teachers and 810 students. Scholarships support 50 students. The Head Teacher, Ms Gubwe, asked ZIC to help uplift the school which needs urgent refurbishing, better ablution block and sustainable finance. She thanked Mrs Sekai Holland, Zimbabwe Peacebuilding Initiative and ZIC for our support.
Daniel Zinyama and Tamuka Hove, members of the ZimPI Boy Child Partnering with the successful UN Girl Child Project explained that the infrastructure for the Peace Village would be sustainable solar electricity, biogas generators and clean water supplies.