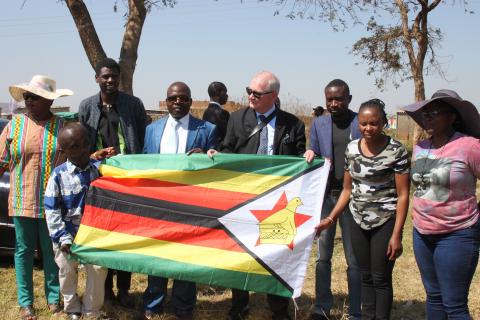 Displaying the Zimbabwe flag gifted to Zimbabwe Information Centre at the Peace Village site, Kuwadzana, August 8, 2022.
When Peter Murphy and Graham Chuck of the Australian-based Zimbabwe Information Centre (ZIC) visited Harare during August 6-15, 2022, they intended to visit projects which ZIC had been supporting for many years to enable an updating of the organisation's plans. While this was a big success, the visit sparked the imagination of many community leaders, energised key organisations, and boosted the effort of the entire Zimbabwe Peacebuilding Initiative (ZimPI) Network.
After all, this ZIC visit was an international solidarity visit to ZimPI in Zimbabwe, and was perceived as solidarity with Zimbabwe as a whole. The visit came one year before the 50th anniversary of the visit to Australia of elected the Chairperson of all Liberation Movements in Africa, Chairman Herbert Chitepo who was also the elected Chairman of ZANU's Supreme Council under the leadership of party President Rev. Ndabaningi Sithole. The ZIC delegation reminded Zimbabweans that its all-weather friends who have been with them through thick and thin are still here.
Because of this ZIC visit, the Midlands State University decided to give ZimPI "Institute" status, in recognition of its success in maintaining strong international solidarity relations for the last 50 years.
This broader impact of the ZIC delegation demonstrates how precious is the genuine international solidarity which we have been sustaining, and hopefully this will also encourage Australians to boost their efforts with ZIC.