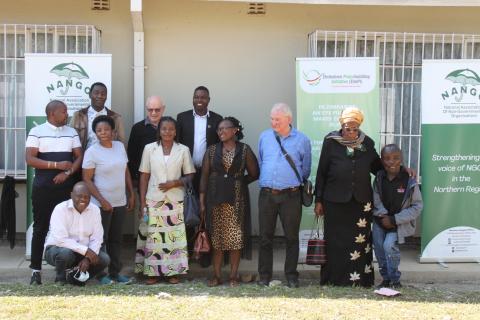 Group photo following ZIC meeting with National Association of Non-Government Organisations (NANGO) at their rented office.
ZIC met with the National Association of Non-Government Organisations (NANGO) on August 9, 2022, at their rented office in suburban Harare. The Director, Dr Lamiel Phiri, welcomed the ZIC visitors saying, "We have a dream of a better future. The pockets of light are the people who stand up for change for the better, like Senator Holland, who is working to pass on the baton to a new generation."
NANGO was first established in 1965. It has 1,260 member organisations, structured in five regions, and working on 10 thematic sectors. Each region has its own Executive Committee, and there is a 15-person National Secretariat. Its programs cover governance, media, arts and culture.
Dr Phiri explained that the main challenge for NANGO is its dependence on funding partners, many of whom have left Zimbabwe in recent years. NANGO needs resources, it has a right to have a stable home that it owns, doesn't rent. "We feel like a nomad," he said. Able only to pay low wages, and thus losing key staff, NANGO is working at 50 per cent strength. But he sees the end of the Mugabe era and the new Mnangagwa government – known as the Second Republic – as an opportunity.
"We are working with Zimbabwe Peacebuilding Initiative and other organisations in its network to pursue fundraising, and to assemble evidence to support our proposed solutions to social problems. Our strong emphasis is on peace, which is vital to development," said Earnest Nyimayi. "We are prioritising a Code of Ethics for the sector to use in self-regulation."
A major concern at the moment is the Private Voluntary Organisations (PVO) Bill, which has been introduced by the government to address concerns with money laundering and financing of terrorism. According to NANGO, only 10 per cent of organisations put in the required annual financial report. This is a genuine problem that needs to be fixed.
Some civil society organisations see the PVO Bill as a means for the government to shut them down in the lead up to the 2023 national elections, while NANGO saw it as basically positive, but with the penalties proposed for non-conforming organisations as too sudden and harsh. NANGO proposed amendments which were largely accepted in June 2022.
NANGO asserts its role as the leader in the NGO sector, and the government accepts this. But some better funded organisations make strong media statements about government policies without consulting their own members or NANGO. NANGO works by consulting its many members first, and prefers to dialogue with the government rather than denounce it in the media or take court action.
Mrs Holland noted that dialogue is often set up to fail, and that genuine dialogue must start in the family before it can be effective in the wider society.