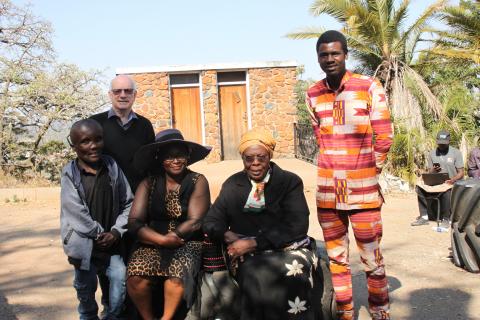 Amid the many meetings with organisations, ZIC was given a special tour on August 9 of two sites in Harare by Mr Garikayi Makuya from the Small Enterprise Tourism Association of Zimbabwe (SETAR). SETAR is a member of Zimbabwe Peacebuilding Initiative (ZimPI).
These sites were the Kopje and the Pioneer Cemetery. The Kopje is a prominent hill where white invaders first established themselves, and placed a pioneers monument on the top. It was declared a national monument on 15 March 1968. It provides a panoramic view of modern Harare. In fact it is badly in need of refurbishing, but has its own military guard.
By accident we met some martial arts women there whose t-shirts carried slogans against girl child marriages.
Mr Makuya then took us down to the Pioneers Cemetery, originally the Salisbury Cemetery, which holds the graves of many different nationalities among the white settlers, including a Jewish section, as well as a section for those killed in World War II, the most well-cared for part of this historic place.