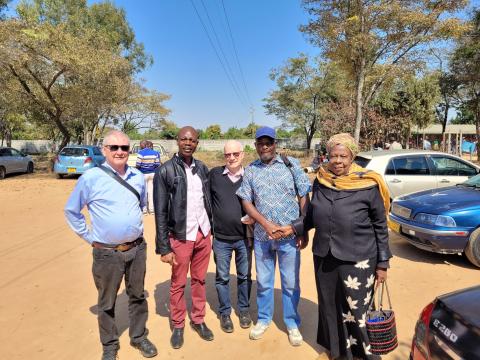 Senator Sekai Holland (right) with old friends at Epworth.
On the final day of the ZIC visit to Zimbabwe, Peter Murphy and Graham Chuck met with Mr Gift July, Councillor for Ward 3 of the Epworth Local Board, on the northern fringe of Harare. Also in attendance were members of the Zimbabwe Peacebuilding Initiative (ZimPI) – Senator Sekai Holland, Ms Vimbai Zinyama of the Zimbabwe Congress of Trade Unions, and Tamuka Hove and Daniel Zinyama of the Boy Child Project partnering with the Girl Child Project.
Epworth is a community where people on very low incomes can find a dwelling, like Kuwadzana, and where Senator Holland was the representative during Joint Government of 2009-13. The Local Board is now led by MDC members, and the local national Assembly member comes from ZANU-PF. The peacebuilding message has meant there is strong ongoing cooperation between the ZimPI Network and the Local Board, and in the past the Australian Embassy has coordinated investment in the community centre, where we met.
Ms Zinyama from ZCTU proposed to Mr July that a high priority be given to developing Epworth Education for Development and Training Centre, and that ZCTU would invest in this to enable the youth to acquire practical qualifications which would integrate with national and international standards. This would enable sustained investment in Epworth for job creation.
This Centre is a novel idea that has been debated for years by civil society organisations who are now in ZimPI.
ZimPI enjoys an excellent professional relationship with the Minister of Higher Education Professor Murwira and the Permanent Secretary Professor Tagwira as they successfully implement President Mnangagwa's Education 5.0 policy towards 2030. ZCTU and ZimPI work with the Zimbabwe Council for Higher Education (ZIMCHE), whose CEO, Professor Dr Ndzimbo, shares their passion for an institution that secures education standards that will be certified locally, in the region and internationally. ZCTU wants this institution to rebuild its own research and education capacities for workers and trade union activists.
Mr July expressed support for this project, requesting more detailed plans that the Board could consider. He also noted Senator Holland's longstanding commitment to the people of Epworth, and the support of the Zimbabwe Information Centre (ZIC) and the Australian government for this work.