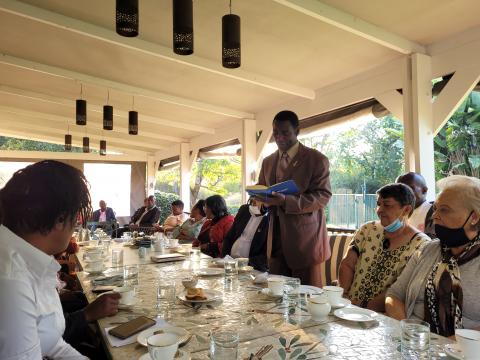 Dr Lamiel Phiri, Chairperson of NANGO, responds to the welcome by Australian Ambassador Ms Bronte Moules.
On August 10, 2022, the Australian Ambassador to Zimbabwe, Ms Bronte Moules, hosted an afternoon tea reception at her residence, for the Zimbabwe Peacebuilding Initiative (ZimPI) Network and the Zimbabwe Information Centre (ZIC). She warmly embraced the 30 grassroots activists, young and old, who took part from all the organisations who are in ZimPI.
The Ambassador talked about the many warm community links between Australia and Zimbabwe, noting the very positive outcomes from the Grassroots Cricket initiative, the Skills Volunteers Program, the NGO Partnership Program and the social impact of an Australian mining company in Zambia, FQM.
On behalf of ZIC, Peter Murphy recalled the history of the Australian support for the liberation struggle, then the creation of the ZIC in 1999. "We supported the Movement for Democratic Change through those very difficult years, and now our language and focus has shifted to Peacebuilding, the right word for the aspirations of the people of Zimbabwe today," he said.
The Ambassador was very busy engaging with each organisation present, listening and encouraging, and we in ZIC did the same.
ZIC maintains a continuing dialogue with the Embassy and with Australia's Department of Foreign Affairs.