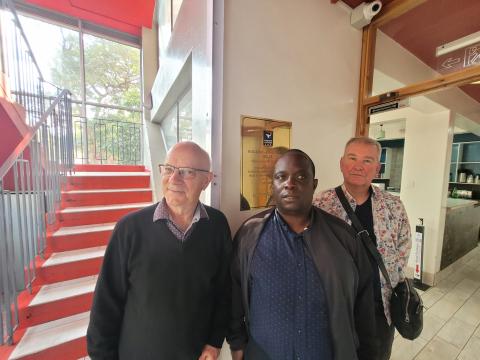 ZIC had a thorough discussion with Advocate Blessing Nyamaropa, the Deputy Director of Zimbabwe Lawyers for Human Rights (ZLHR) at their office in Harare, on August 11, 2022. ZLHR provides advocacy, legal advice and training in risk management to human rights defenders, including the Zimbabwe Congress of Trade Unions (ZCTU).
ZLHR was set up in 1996 when lawyers saw a gap in advice for human rights defenders who were being persecuted in the judicial system by the Mugabe government. It started out as an informal service, but is now an institution covering all of Zimbabwe. It has a public interest litigation unit and a research and advocacy unit, which can provide an emergency response team. For example, ZCTU has been targeted for holding protests and for criticising government policy on behalf of workers.
The priorities for ZLHR are protection of human rights defenders, access to justice and institutional strengthening. Part of its work is at the Universal Periodic Reviews of Zimbabwe at the United Nations Human Rights Council (UNHRC), and in engaging with the Special Rapporteurs of the UNHRC.
ZLHR is at present on full alert over the Private Voluntary Organisations (PVO) Bill which requires all such organisations to register, including common law associations and registered trusts. ZLHR operates as a trust. Advocate Nyamaropa was very concerned that the Minister can suspend the executive of an organisation without any prior investigation, that there are civil and criminal penalties for failing to register, and that the Bill allows the control of political lobbying.
Unlike NANGO, ZLHR thinks the amendments that were finally adopted do not fix the problems with the bill. Advocate Nyamaropa expects many organisations to be shut down because they will fail to register within 30 days of the PVO Act coming into force.