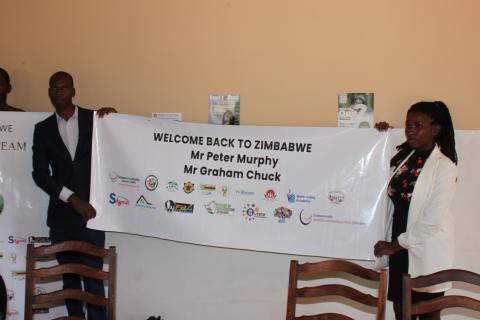 Peter Murphy and Graham Chuck from the Zimbabwe Information Centre (ZIC) in Australia made their first visit in Harare to the Arcadia Trust, on August 6, 2022.
The Arcadia Community Healthcare and Institutional Legacy Development (C.H.I.L.D.) Trust is located in Harare suburbs where the 'coloured' community has been concentrated- and buffeted between the more powerful white minority and black majority communities. These suburbs are Arcadia, Braeside, Cranbourne, Eastlea North and South, Queensdale and St Martins.
When the COVID-19 pandemic struck with the lockdowns, the community became very concerned for the lives of the seniors. A group of volunteers responded with a big vision by creating the Arcadia C.H.I.L.D. Trust to collaborate with other community organisations.
The Trust launched programs for quality affordable healthcare with modern healthcare facilities, nutritional support for seniors and vulnerable groups, drug awareness and rehabilitation, assisting children to get back into schools plus after-school activities in drama, music and art, and plans for digital education, skills development and job placement, as well as a cultural legacy program.
This was the first community which the ZIC visited on August 6, 2022, for a comprehensive briefing, a tour of the health facilities, and participation in an over-60s rock-and-roll dance at the community centre.
The Trust was able to support the return of 40 young people to primary school and 6 to high school in 2022. Even before the pandemic disruption, severe economic hardship had forced children out of schools. Nutritious food is now being delivered to seniors who have no money and lack mobility. The Trust has provided free Eye Clinics, COVID vaccination clinics and comprehensive.