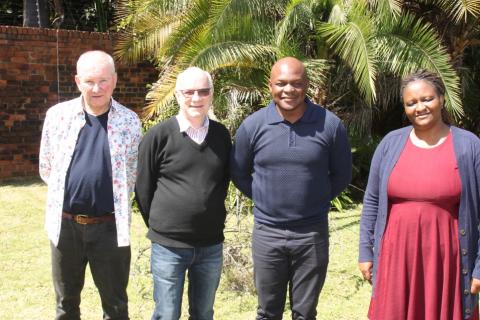 Graham Chuck, Peter Murphy, Komborero Nkomo and Heather Koga.
ZIC met with two officers of the Zimbabwe Election Support Network (ZESN) at their suburban Harare office on August 12, 2022 – Heather Koga, Senior Advocacy Officer for Electoral Reform, and Komborero Nkomo, Officer for Monitoring, Evaluation, Accountability and Learning. ZESN has 37 civil society organisations in its network, with the aim to promote democracy and free and fair elections.
They explained that ZESN has departments for election monitoring and observation, advocacy for electoral reform, civic education and capacity building, media, and evaluation and learning.
We first asked about the by-elections for National Assembly and Local Council vacancies, held on March 26, 2022. Heather explained that the main lesson from these by-elections was the need for better voter education. "Voters were going to the wrong polling place, didn't have their national ID, and there were too many 'assisted' voters," she said.
Combo explained that the government used the pandemic to stop Opposition political rallies. "The emergence of Nelson Chamisa's Coalition for Citizen Change (CCC) from the Movement for Democratic Change (MDC) worried the government and some violence and intimidation followed to prevent CCC rallies," he said. "The government is eager to pass the Private Volunteer Organisations (PVO) Bill to ensure that all NGOs are gagged in the elections."
Combo reported that it is now harder for people older than 18 years to obtain a National ID in urban areas, and this is possibly a significant election manipulation. He said that there are 2 million potential voters needing a National ID, but only 200,000 have been issued.
The ZESN analysed all reports of the 2018 national elections and made 50 recommendations through petitions to parliament, public hearings, and proposing a model election law. This led to an Amendment Bill based on a credible consultation.
The most recent Census reports that about 70 per cent of the population live in rural areas.