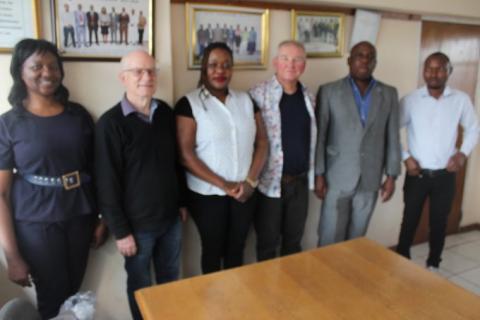 ZCTU leaders meet ZIC: from left, Ms Vimbai Zinyama, Peter Murphy, Ms Florence Taruvinga, Graham Chuck, Kuda Munengiwa, and Runesa Chipamaunga.
On August 11, 2022, ZIC met with the Zimbabwe Congress of Trade Unions (ZCTU) leadership at their office in central Harare. The President, Florence Taruvinga, Vice President Runesa Chipamaunga, and Deputy Secretary General Kudakwashe Munengiwa, explained their internal and public priorities.
ZCTU itself is struggling to maintain its staff and operations because membership dues are not enough following years of economic hardship. Ordinary people cannot withdraw their cash easily for the banks, and members who want to pay their dues cannot do it easily. As well the disaffiliation of many unions – including the five largest unions - over the political polarisation driven by the previous leadership has weakened ZCTU.
However, ZCTU does own properties in the Harare area, and could develop a convention and training facility that would earn income to support the organisation. As well, this new leadership team elected in October 2021 is working to bring back the disaffiliated unions by refusing to be defined as either pro-government or pro-opposition. "We did this at our May Day rally this year, where we had both the Labour Minister and a speaker from the Chamisa opposition address the workers issues," said Florence Taruvinga. "It worked well."
The ZCTU public priorities are dominated by the need for a real wage increase for the workers, and encompass the need to bring workers back into formal employment, to develop more skills needed for a stronger economy, to address the needs of migrant workers and to address gender inequality in the workplace.
The drive to increase wages is in the Trilateral Negotiating Forum, set up in 2019 after a decade of calls from ZCTU for its establishment. The main obstacle to a wage increase is the Ministry of Finance which is restraining the TNF while it pursues its own austerity policy. The ZCTU wants wages paid in US dollars rathe than the collapsing Zimbabwe dollar. This si strongly resisted by the government.
"The ZCTU position is that workers are central to the economy, and so must be paid higher wages. The government does not grasp this economic reality," said Taruvinga. "But media coverage only comes if you are anti-government," said Taruvinga.