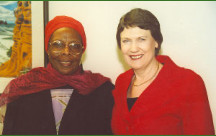 Photo: In October 2019 Hon Helen Clark was guest of Honour at the University of Zimbabwe at the FairGo4Kids launch of the Boy Child Project in the UZ Peace, Society, Security Department, to partner the Midlands State University Gender Institute's proposed Girl Child project in the Resuscitation of the Association of Women's Clubs Development Model to strengthen grassroots communities in today's difficult environment which is dominant around the world.
In 2000, UN Security Council Resolution 1325 affirmed that peace and security efforts are sustainable when women are equal partners. It highlighted the Three Ps to ensure women are equal participants in the forging of lasting peace during Peace negotiations:
Participation of women in all peace processes.
Protection of women in all political spaces.
Prevention of violence against women.
Zimbabwe Women in Politics and Peacebuilding (ZimWiPaP) is designed in this framework because most women torture survivors in modern Zimbabwe politics are women connected to men in politics. And political violence is inflicted on women in politics equally as on men in politics. The late Mrs Margaret Samuriwo, ZimWiPaP Director, completed two concept papers aimed at addressing the historical origins of politically organised torture, rape, abductions and murder of women which now affect all Zimbabweans. She worked to establish the National Women's Museum for Healing and the National Women's Community Radio for Healing to connect women across all divides.
ZimPI's focus is on the need for a transparent gender component in all ministries and government programs.
ZimWiPaP policies and programs aim to empower women torture survivors in politics and also women survivors of all forms of violence today.
Violence is an ugly and growing phenomenon that permeates the whole of Zimbabwean society. ZimWiPaP adopted UNSCR 1325 and its additions to address the local circumstances of political violence, from the historical hanging of Mbuya (Grandmother) Nyakasikana Nehanda, by the Pioneer Column in April 1898. She was the Spirit Medium, inspiration and guide to the ZANLA Freedom Fighters throughout the Liberation war.